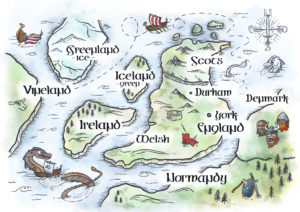 This completely accurate rendition of the North Atlantic reveals some of the goings-on in The Domesday Book (Still Not That One).
If the recorded history of 1067 to 1068 is anything to go by, England was in chaos. Add a bit of artistic licence and we have a tale to make grown historians take up geography.
Finishing off ends you didn't know were loose in the first place, The Domesday Book Volume II is another book with a map.